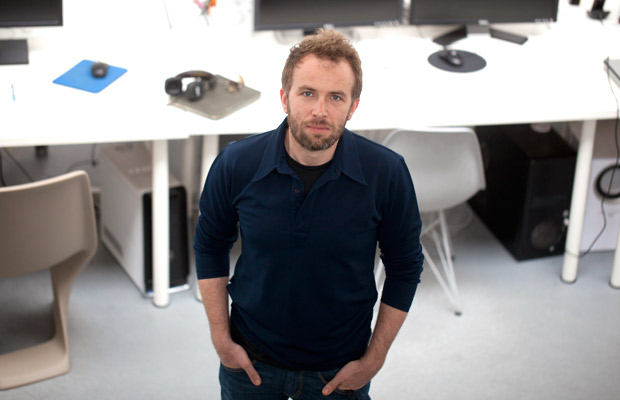 GG intervista a Cédric Ragot, giovane designer emergente del Naturally Clicquot, il primo packaging isotermico e 100% biodegradabile mai realizzato per uno Champagne. 
– What is the link between design and wine ? how can design evaluate a cultural product and full of history like wine?
Gluttony and drunkenness. Spirits are often attached services of contemporary creation to convey modernity beyond the tradition. It is the desire that motivates this projection meeting. There is a strong appetite rewriting classics cultural rituals and this is the practice of contrast often enriched the meeting
– Have you ever thought of switching the roles ie using the forms of wine as an inspiration for your objects of design?
It is always about material processing. Professions creating consumer goods, any sector manipulate ideas and materialize to summon beauty, taste, emotion with balance. it is interesting to shift to change your creative point of vue. I think the transfer of technology, knowledge, but then to change of profession, I'm not so flexible …
– What inspires the projects you sign for Veuve  Clicquot ?
We are invited to perpetuate a major innovation in the Veuve Clicquot champagne tasting accessories: isothermal protection. And we wanted to do it in an innovative way, see iconoclastic for this world of luxury.
In a very pragmatic way, I first analyzed all forms of thermal insulation materials and process implementation at my disposal.
In parallel, more symbolically, I will as a major consumer of champagne to find enough carnal connection between land, vine shoot and concept related to the generosity and abundance very Clicquot. It is in this sense that blur the image of the Klein bottle, the mathematical form which could take the symbolism of the endless bottle was born. An evocative but abstract enough shape to win calmly. The paper has become an obsession for its entire life cycle, its relation to the earth until its degradability and ecological balance. we investigated new ways of processing paper until you find the material and the implementation that was able to satisfy our combined stresses. The paper foam injected starch potato, great insulated, 100% biodegradable, resistant to very low thickness would provide our project structure and legitimacy. We gave him a bold shape that is none other than the synthesis functions of this product, uncompromising style and an immaculate finish to complete the words.
– You have designed many objects for the kitchen. What is the bond between wine and food? Is the concept of design different for food and for wine?
In the case of wine, the product is ready to eat, or almost ready, it must be ventilated or refresh, sublimated but most of the work has already been done. When I draw the blade knight to cut his steak through Mazelier cutlery, this time it is a tasting tools rather than an accessory. In the case of food preparation, everything remains to be done and I offer tools to achieve excellence in a quasi professional preparation through the Krups appliances. On the one hand it is therefore an accessory to the other tools.
– What is the object that most of all you would like to design and you still haven't?
So very selfish, I hesitate between a motorcycle and a restaurant, but in the absolute ideal would be an object that will change the world …. And they are so rare that I would settle the rest