Here are the details of Assoenologi, published by Beverfood.
THE HARVEST 2011 AT A GLANCE In July our processing gave a domestic production increased of 5% compared to last year. At the end of August were down to -5%. In mid-September the decrease had risen to -10%. Today, to grant virtually concluded, We are at -14% compared to the last campaign. Despite the vagaries of time, the screw, until mid-August, has managed to overcome the critical moments, also because the low and high temperatures, and the rains, Although out time, are almost always happened in times of need of the plant. However, it was subsequently nullified by the scorching heat of summer, After starting with the wrong foot, seemed to not want to finish more. In fact, the last two weeks of August and September, that temperatures have pulverised all records, they left their mark. From here the quantity and sizing, in different areas, also the quality of production. The June-August quarter recorded a somewhat anomalous course, not seen in recent decades. The coolness of June and July was balanced by the extraordinary heat that has invaded the whole country at the end of August and, Despite some storms, on a national scale is missing 20% rainfall. The month of September in Northern Italy was the hottest since 1800 and national level ranks in second place just after the 1987: 30° C, More or less, throughout Northern Italy, with high temperatures also in the mountains. Nationally registered 2.5° C compared to the reference period 1971/2000. Northern Italy was the hottest ever with 3° c.Regarding rainfall, the month of September 2011 He scored a drop, on a national scale, of 10% with respect to the period 1971/2000, While Northern Italy fell to -30%. In mid-July it expected an advance of collecting 20 days in Central/North, until 15 by August, It is reduced to a week and then back again to grow. In almost all regions of the South, the harvest has begun in many standard. The fact remains, however, that the contributions of early varieties, except for certain areas of Lombardy, Puglia, Sicily and Lazio, After Ferragosto.Il began the collection in Italy occurred in the first fortnight of September. The operations have virtually closed down around mid-October, Although the last grapes of Aglianico in Campania, Nerello Mascalese slopes Etna, by Nasco and Malvasia in Sardinia, will be awarded in late October and early November.

The Quantities
Quantitatively, in mid-August, the Italy was divided into two. The Centre/North (up Tuscany) showed a fairly homogeneous production impact from 0 to -5% compared to last year. Today the record from scissors 0 to -15%.The Centre/South (from Marche to Sicily) highlighted instead a decrease between -5% and -20%. Today we are one of -10% and -25%. Only entry out of the chorus is represented by Sardinia, After three years of decreases, increases the 5%. Altogether the processing of data suggesting that the production of grapes can oscillate between 55 and the 58 million quintals that, by applying the average coefficient of transformation 73%, damage 40,3 millions of hectolitres, pretty much a lower quantity of little 14% with respect to the 2010, He did record a production of 46,7 millions of hectolitres (because Istat) the five-year average (2006/2010) by 46.186.000 hectoliters and the decennial (2001/2010) by 47.561.000 HL. We are facing the most recent poor harvest 60 years. To find a similar quantity you need to go back to 1948 When produced 40,4 million hectoliters.The Veneto (7.930.000 HL) you confirm, for the fifth consecutive year, the most productive region of Italy. Veneto, Emilia Romagna, Puglia and Sicily together produce approximately 23,5 millions of hectolitres, that is almost the 60% of all the Italian wine.Certainly the production decrease in the southern regions is also due to use of grubbing with premium and abandonment of vineyards. It should be pointed out that in fact in the previous year have been regularly uprooted nearly 9.300 hectares ranging added to beyond 22.000 of 2008 and of the 2009. Sicily, Puglia and Emilia Romagna are the regions that most resorted to such a measure.Another aspect that has decreased the production is due to the so-called "Green harvest" that is to make unproductive vineyards for a year. Suffice it to say that this practice, only in Sicily, concerned about 13.000 hectares.

Quality
Could be a memorable vintage. Unfortunately, the month of September has not "made a difference". Then the quality of the grapes and wines was quite heterogeneous in the sense that, even in a same region, the good collides with the excellent and mediocre with the excellent. Thanks to grape quality health held. The cellar hits confirm excellent levels for the wines produced from grapes harvested early and late collections. A certain heterogeneity occurs in those straddling the vagaries of time. In all manifested a strong consideration of alcoholic strength, However, not always supported by an equally acid content. The situation is therefore a Leopard spot. Altogether the 2011 for white wines is very interesting with great tips and excellent. Red wines receive a charge polyphenols of any account with undoubted possibility of evolution.

ITALIAN ANNUAL PRODUCTION (WINE AND GRAPE MUST) OF THE LAST 20 YEARS

The data shall be expressed in hectolitres Production Associazione Enologi Enotecnici Italiani su dati Istat
Market forecasts
Sales abroad in 2010, with respect to the 2009, hanno fatto registrare un incremento dell'11,9% in valore e dell'11% in volume. I dati del primo semestre 2011 indicano un ulteriore incremento: +14,1% in valore e +15,4% by volume, sempre rispetto allo stesso periodo del 2010. La ripresa del settore c'è e si vede. Performance importanti visto che nel 2010 è stato esportato quasi il 50% della produzione nazionale, which means the Italian wines, albeit with cautious optimism, are returning to fly. Dati che sono confermati anche dall'aumento delle quotazioni all'ingrosso di uve, mosti e vini, in quasi tutte le regioni italiane con incrementi medi che vanno dal 5% al 35% per le tipologie più richieste. Va ricordato che i prezzi all'ingrosso dei vini nel 2010 erano stati uguali a quelli del 2009 che a loro volta erano scivolati di oltre il 30% with respect to the 2008.

I consumi interni continuano a calare
Secondo Assoenologi i consumi interni di vino nel 2010 si sono attestati sui 43 litri pro-capite, against the 47 of 2007. La tendenza è verso un ulteriore decremento, so much so that in 2015 l'Assoenologi li stima sotto la soglia dei 40 litri con un calo di circa il 70% rispetto agli anni Settanta, quando in Italia si consumavano poco meno di 120 litri a persona per anno. In pratica dai due bicchieri pro-capite bevuti negli anni Settanta, siamo passati a solo mezzo bicchiere di oggi.

L'Italia e il Mondo
La produzione mondiale di vino è di 300 millions of hectolitres (40 miliardi di bottiglie), the 60% dei quali prodotti nell'Unione Europea. The 17% della produzione mondiale ed il 30% di quella europea "parlano italiano". In 2010 the Italy has produced 46,7 millions of hectolitres (media decennale (47,6 millions). La superficie di uva da vino in Italia nel 1980 era di 1.230.000 hectares, in 1990 era scesa a 970.000 ettari ed oggi è di 684.000. In vent'anni il nostro Paese ha perso 286.000 hectares, quanti ne hanno oggi la Lombardia, la Puglia e la Sicilia insieme. Per alcuni questo è un dramma per altri un bene visto che oggi è inutile produrre quello che il mercato non vuole.

LE TRE PRECEDENTI ANNATE
2008:saved by an extraordinary month of September. In 2008 It produced 46,2 million hectolitres of wine with an increase of 9% compared to the previous year, which, as we have seen, has been very stingy. Le regioni del Centro/Nord, eccetto la Lombardia, il Veneto e l'Emilia Romagna, were characterized by the minus sign, quelle del Centro/Sud, a eccezione del Lazio e della Sardegna, recovered considerably from the previous production, so much so that Sicily had record +35%. Le positive condizioni climatiche verificatesi in tutt'Italia nei mesi di settembre e di ottobre prolungarono il periodo di accumulo e di raccolta permettendo un forte recupero qualitativo al Centro/Nord e in particolar modo per quei vini ottenuti da uve vendemmiate tardivamente. The 2008 is evaluated as a very heterogenous vintage, However overall good with only a few very good tip.
2009:bizarre, full of surprises, more vintage washed by 1803. The 2009 He presented several features from the previous two vintages from autumn-winter precipitation, considered by the Cnr is one of the most abundant from 1803. A una primavera capricciosa e caratterizzata da capovolgimenti e colpi di scena è seguita un'estate iniziata all'insegna della pioggia e proseguita con temperature sensibilmente al di sopra della media stagionale. In 2009 It produced 45,4 million hectolitres of wine. L'Italia fu divisa longitudinalmente in due: la parte occidentale, quella tirrenica, manifestò infatti incrementi produttivi abbastanza omogenei (5/10%), per contro la parte orientale (adriatica) decrementi altrettanto omogenei (5/10%). A causa del bizzarro andamento climatico e meteorico, fatto di colpi scena, piogge, sole, alte e basse temperature, la qualità in tutt'Italia è stata piuttosto difforme.
2010: una vendemmia eterogenea e a macchia di leopardo. In 2010 l'andamento climatico e meteorico dei mesi di settembre e di ottobre non ha portato ai miglioramenti auspicati. Il sole è stato in quasi tutt'Italia avaro e le piogge, in molte zone, non hanno lasciato scampo. L'eterogeneità qualitativa rilevata da Assoenologi a fine agosto è stata purtroppo confermata. Una situazione a macchia di leopardo, dove in una stessa regione il buono si è scontrato con l'eccellente e l'ottimo con il mediocre. Altogether the production quality 2010 è risultata buona con diverse punte di ottimo, but with the absence of excellence. Si sono prodotti 46.737.000 di ettolitri di vino (because Istat), about 1 milione di ettolitri in meno rispetto al 2009. Il Veneto si è confermato la regione italiana più produttiva con 8.351.000 HL, seguita dalla Puglia (7.169.000), dall'Emilia Romagna (6.601.000) e dalla Sicilia (5.676.000), quest'ultima in calo di mezzo milione di ettolitri di vino rispetto al 2009.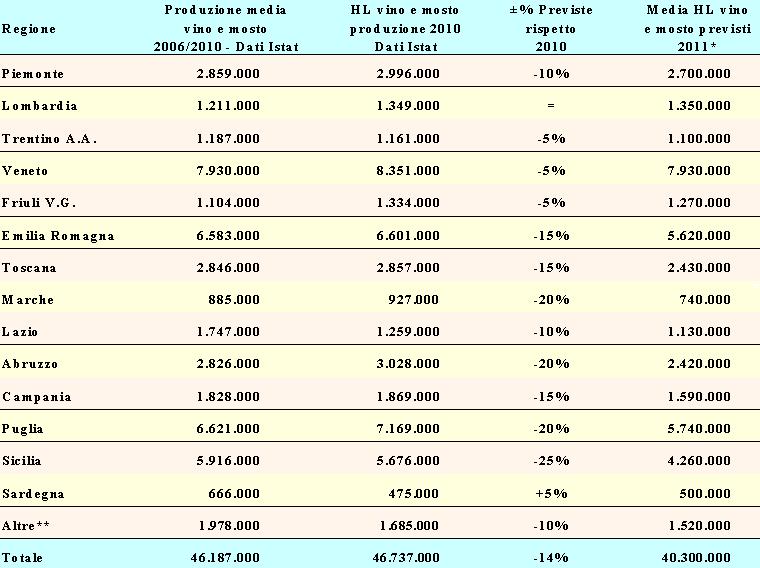 Source:Associazione Enologi Enotecnici Italiani **Valle d'Aosta, Liguria, Umbria, Molise, Basilicata, Calabria